Are You Ready To Be A House Call Vet?
Though the movement is small, more veterinarians are considering a move to in-home veterinary care. These veterinarians are seeking to serve their patients and caregivers in less a stressful environment while regaining control of their own lives and schedules.
Being a housecall vet can mean greater control in almost every area of your job including the way you care for your patients. The move away from the clinical setting can reduce stress on everyone involved, yourself included.
Setting up a mobile practice has many important components, including
Getting your ducks in a row from a business & legal perspective
Setting up the foundations for profitability
Growing your practice & bringing in consistent income
Getting the clients you want
Developing your practice on your own terms, without burning out
Featured Expert: Dr. Eve Harrison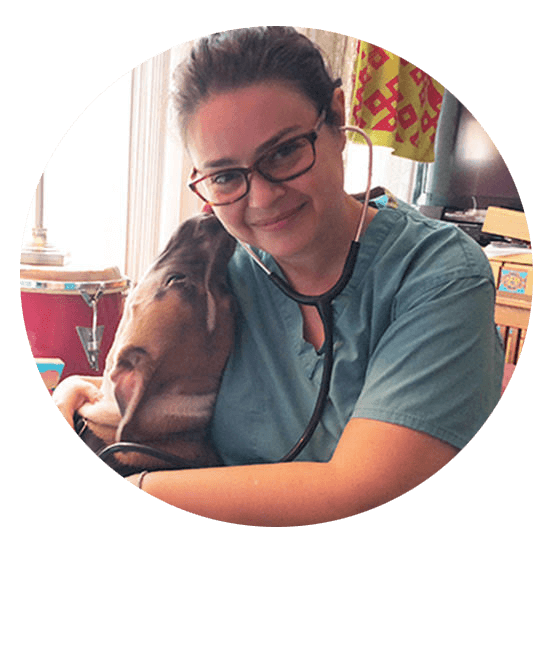 Eve Harrison is a University of Pennsylvania graduate with surgical residency experience, as well as a decade of experience in ER, GP, shelter, wildlife, & relief work. After many years in her own practice, Eve felt lost and burnt out not only as a veterinarian, but as a business owner as well.
In seeking a solution, Eve developed the "Veterinary Freedom Formula," which is what allowed her to find love and enjoyment of her career as a mobile veterinarian again.
She began practicing from a place of emotional health & well-being, allowing her to give her patients the level of care they deserved. She has since created The House Call Vet Academy to help other veterinarians to grow sustainable, profitable, and fulfilling mobile practices of their own.
Eve says "Vet School didn't teach us any of this, right? So, friend…. I've made all of the mistakes FOR you. I learned it all the hard way, so that YOU DON'T HAVE TO! I'm here to serve up everything I know on a silver platter wrapped up in a neat little bow, so you will know exactly what to do without having to do it all alone or reinventing the wheel! I see you. I understand you… and that's why I created this course…. just for you."
Eve currently practices in Los Angeles, California and has received overwhelming praise from veterinarians using her business model in New York, Virginia, New Mexico, California and more.
Ask Jan For Help Members can access Eve Harrison's course at a discount. This online CE course is a blueprint and roadmap for weary, lost, or compassion-fatigued veterinarians looking for another way.  This program comes with a year of on-demand access to the course contents, a private community of others going through the same curriculum alongside you, as well as monthly group coaching options. One-on-one coaching options exist too,  to address the needs of your unique house call practice as you revamp or start your business from scratch. Help is just an Ask Jan For Help Expert Away
Learn more about how your membership to Ask Jan For Help gives you access to dozens of industry experts like Eve for simple questions, and how membership credits can be used toward larger projects with these experts as the need arises.
---